If you've used an Uber with your certified service animal, you already know that the mobile taxi service's policy allows you to take him/her along with you at no extra charge. Commuting with other pets, however, was not a given on the ride hailing service… until now.
Introducing Uber Pet
Uber's newest feature includes pets of all kinds.  It is called Uber Pet and comes with an extra charge (of undisclosed but modest amount).
The pet perk rolled out on 16 October in Austin, Nashville, Denver, Philadelphia, Phoenix, Tampa Bay and Minneapolis-St. Paul in the United States.
Animal-owning customers welcomed the launch with "a round of a-paws".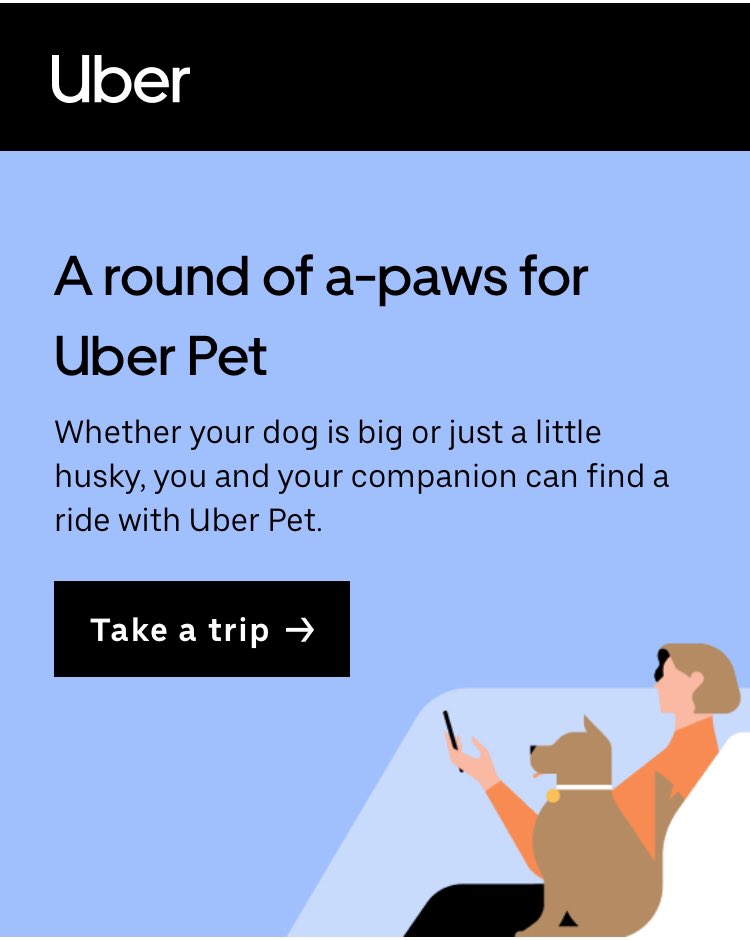 Residents taking an Uber trip with their pet in qualifying areas needn't worry about angry, anti-pet drivers. Uber Pet is an optional service, and "drivers will have the option of avoiding trips with non-service animals by opting out." This protects drivers with severe allergies to animals.
Words of warning
It is always advisable to transport your pets in a purpose-built and approved pet carrier for their safety, your own and that of the driver and other passengers.
If you are an Uber passenger who is sadly allergic to animals, it's worth checking if the driver has opted into Uber Pet recently before you confirm your order for the trip. If they have carried animals, there may be traces that your body reacts negatively to.
Taking your pet on an Uber is not liability free. "Under Uber's community guidelines," warns Geekspin, "any damage done by the pet or its owner will be charged accordingly." Luckily, dotsure.co.za offers pet insurance to help pay for that, when the feature is (hopefully) launched in South Africa.
Service animals are still free
The company emphasized that Uber Pet does not replace its service animal policy. Riders with certified service animals "are not expected or required to use Uber Pet, and can select from any number of ride options without paying the surcharge", TechCrunch notes.
"We want to be the operating system for your everyday life," Uber's CEO, Dara Khosrowshahi, told them. "A one-click gateway to everything that Uber can offer you."
Well, then, Dara, maybe Uber Eats can also consider delivering delicious fresh dog treats? 😊